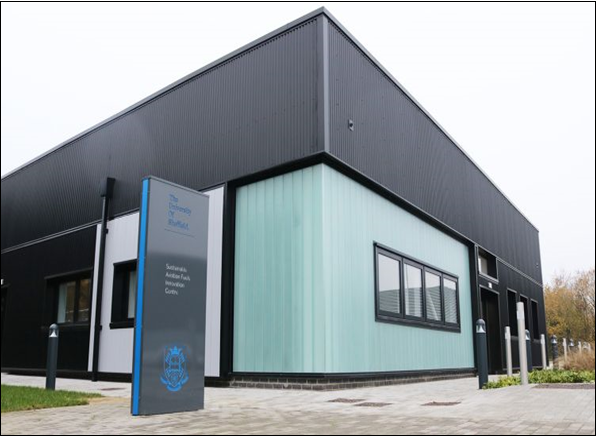 Principle Contractor: Hobson & Porter
Client: University of Sheffield
Programme: 2021-2022
Project Value: £895K
Sector: Higher Education
The Project
The Sustainable Aviation Fuels (SAF) building is a research facility which is part of the Low Carbon Combustion Centre (LCCC). The purpose of the SAF building is to facilitate industrial collaboration into reducing the impact of jet aviation fuels on the natural environment. The building is situated adjacent to the Translational Energy Research Centre (TERC) building where Elecomm delivered CAT A MEP services.
Our Role
Securing our first order with Hobson & Porter Ltd., Elecomm were proud to be awarded another University of Sheffield project at the Advanced Manufacturing Campus to design, deliver, install and commission the full Mechanical, Electrical and Data Services.
The Challenges
The new building electrical supply was served from the main LV panel in the adjacent Translational Energy Research Centre. Elecomm worked closely with the UofS to ensure all the necessary permits and protocols were in place to allow for an out of hours shutdown to ensure the TERC building research continued without interruption.
Due to the nature of the building, there was a requirement for various bespoke installations, for example in the engine test cells, which was a soundproof enclosure, we had to ensure that the services entering the room/installed in the room did not impact on the NR rating of the enclosure.
Installation of a fume cupboard to the clearing room, complete with specialist gases and controls, all of which were commissioned to ensure the fume cupboard pressure regime was maintained.
The Outcome
The project was a great success and was completed within budget. Following our achievement, Elecomm were awarded the order from Hobson & Porter Ltd. for SAF Post-PC works in January 2023 to again deliver MEP services for the University of Sheffield.
Key Deliverables
High Quality Install
Excellent Relationships
Project Services Continued Uninterrupted
Bespoke Installations