New appointments, international growth, a full rebrand and a global pandemic. It's fair to say that the last year has been eventful for Elecomm.
But while Covid-19 is undoubtedly 2020's headline stealer, from Elecomm's point of view, this last year is probably best characterised as a period of change and growth.
Rapid organisational change requires careful management, and this year both the board and senior team at Elecomm recognised the need for transformation in in a number of key areas, to ensure sustainable growth, performance and succession.
Elecomm's Supply Chain and HR Director, John Hamilton, started a dialogue with world-renowned business training provider Dale Carnegie. For over a century, Dale Carnegie has been leading the field in improving individual and business performance around the world.
Together, they collaborated on a course for developing current and aspiring middle managers, to help them extend their skills to get the best from their teams. With the support of the Sheffield Growth Hub, Elecomm were able to access Skills Bank funding to deliver the programme.
John said:
'The idea was to hone the skills of existing team members and equip colleagues aspiring for growth within Elecomm. The course was designed to support existing and potential managers to take on more demanding roles within Elecomm.'
The hands-on course has seen the cohort breaking up into smaller project groups to tackle real-world issues and topics within Elecomm, to help give a sense of ownership and to drive organisational change.
The first cohort of staff has now completed the course, and this week saw them gather online for a virtual celebration!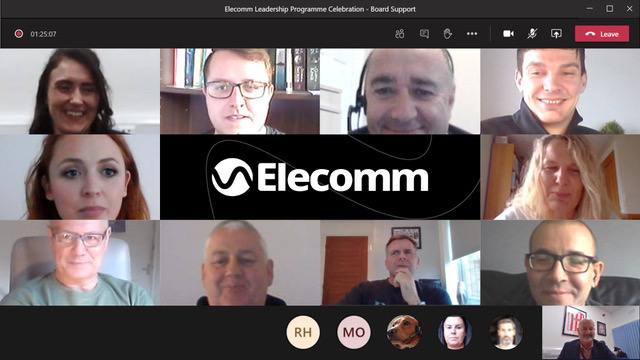 Kirsty Tagg, Relationship Manager and Trainer at Dale Carnegie said:
'Our leadership studies show that 44% of new managers feel unprepared for their role. In order to take command and be successful they need to develop new skills and strategies so they can create and lead a high performing team who are ready for new challenges.'
'It's great that the Elecomm board and senior management team recognise the need to upskill their people in this area. The cohort has been amazing – they've thrown themselves into the course with enthusiasm and energy.'
John concluded:
'We're 100% committed to developing our people, and this partnership with Dale Carnegie reflects our willingness to invest in world-class training to bring out the best in them. Congratulations to the first cohort for completing the course. They're now equipped with the skills they need to develop into Elecomm's next generation of leaders.'