A young colleague at Elecomm has recently been diagnosed with multiple sclerosis has organised a fundraiser to raise awareness for the condition.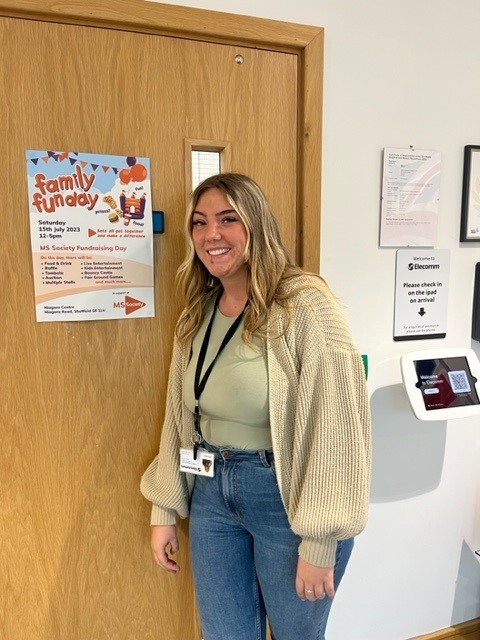 Lottie Grace Smith, 22,was diagnosed with multiple sclerosis in January and is now looking to raise money for MS Society UK.
Lottie has said: "It's so difficult because you don't know when or if it's going to get you. People with MS can be very lonely, I personally have really struggled without having control of it."
The fundraiser, which will take place on 15th July at Niagara Sports Centre in Sheffield, will include a live entertainment, barbeque, auction, raffle and many more exciting activities.
Prior to her diagnosis, Lottie struggled with her eyesight and has since developed issues with her balance and discomfort in her legs.
Lottie has said: "Since I've been diagnosed I've realised how little people know about MS. I'm hoping this fundraiser can help more people find out about it, and hopefully we can make it a yearly event."
"The fundraiser is free entry and everyone is welcome. Everyone that comes will help to raise funds to support the incredible work of MS Society UK. Your participation will help to make a difference!"
What is Multiple Sclerosis?
Multiple Sclerosis (MS) is a condition that affects the brain and spinal cord. Common symptoms of MS include vision and balance difficulties, as well as discomfort in the limbs.
MS affects 2.5 million people worldwide, and an estimated 130,000 people in the UK. The disease is two to three times more common in women, and it is one of the most common disabilities in young adults.
There are two types of Multiple Sclerosis.
'Relapsing remitting MS' leaves people suffering from episodes of worsened symptoms that can last for days or months and'Primary progressive MS' which occurs when people suffer from worsening symptoms of MS.
Treatment
Unfortunately, there is currently no treatment that can cure MS. However, there are a number of treatments that can stabilise the symptoms and give people with the disease more comfort.
Help
Charities such as MS Society UK aim to help people with MS by funding new research into the disease and providing a community for people who may feel isolated with MS.
In 2019, for every £1 donated to MS Society UK, 54p went to the MS community, 19p funded research, and 27p helped to raise the next £1.
You can find more information on the MS Society UK website.